The Meck Deck
Comment and analysis on all things Charlotte
Archive for July 30th, 2009
Hey, what do you know, we're 100% correct again.
The other day we pointed out how screwed up the federal Cash for Clunkers program was, predicted much angst, and lo and behold now the program has been suspended after only four days. The official tale is a bottleneck at NHTSA on approving the trades, but given the confusion caused by the EPA's last minute changes to the rules of the program, this should be no surprise.
In other words, another federal program that promised something for nothing winds up tripping all over itself. Do tell.
Read full article »
5 Comments »
Just coming across the wires, while the POTUS had a Bud Light at the beer summit, Joe Biden dropped in with a Bucklers, a non-alcoholic abomination from the makers of Heineken.
This is clearly an impeachable offense. By far the worst thing Joe Biden has ever done, nearly on par with Aaron Burr.
Read full article »
10 Comments »
Just wait. Folks in Mint Hill will have their hair on fire over CMS' latest boundary plans for the new "Mint Hill" high school. All of the options make the new school more of a "Plaza Road" centered school than one populated by Mint Hill area kids.
The intent of Mint Hill leaders was for the new school to function as a Mint Hill school in the same way Butler is primarily a Matthews school. Independence, they hoped, would be shifted to more a middle-ring school with everything between Garinger and Hwy. 51. Hasn't worked out that way in this latest round of proposals from CMS staff, all of which stretch Indy's zone all the way to the county line.
Read full article »
5 Comments »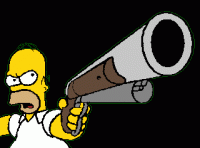 Been warning folks that CLT was on the edge of an upswing in property owners taking the law into their own hands. And what do you know, a car break-in in East Charlotte drew an extra-911 response from the car owner.
Let's see if the DA's office files charges against the guy. I'd give him a medal. He certainly had the right approach, a shotgun with birdshot to start. One assumes he had a progressive load of buck to turn to in case the perps wanted a firefight.
Read full article »
5 Comments »
Quick, anybody know the rules of discovery in North Carolina civil suits? If wide-reaching, Lisa Mayfield's defamation lawsuit against her stepson could be a treasure-trove of family dysfunction deep in the heart of NASCAR.
Among the interesting topics, did NASCAR pay Lisa Mayfield for her deposition, as Jeremy Mayfield claimed? NASCAR probably regrets ever dragging Ms. Mayfield into this already.
The situation reminds me of the long-running court fight between G. Gordon Liddy and John Dean, in which Liddy reveled in being sued by Dean for defamation, which allowed him to continue to press for vindication on his version of the Watergate break-in. But that suit, as well as a subsequent one filed by a former DNC secretary Liddy claimed was involved in a prostitution ring, melted away without resolution.
Thus concludes the first, and likely last, blog post linking Watergate to Jeremy Mayfield's supposed meth use.
Read full article »
3 Comments »